Details
Date:
December 2
Time:
07:00 pm - 08:30 pm
Click to Register:
Click to Register
Join us on December 2nd for the final evening in our author's series!
Katie Daubs will speak about how she recreated the city from the 1870s to the 1930s for her book The Missing Millionaire, the True story of Ambrose Small and the City Obsessed with Finding Him .
In December 1919, Ambrose Small, the mercurial owner of the Grand Opera House in Toronto, closed a deal to sell his network of Ontario theatres, deposited a million-dollar cheque in his bank account, and was never seen again. As weeks turned to years, the disappearance became the most "extraordinary unsolved mystery" of its time. In The Missing Millionaire , Katie Daubs tells the story of the Small mystery, weaving together a gripping narrative with the social and cultural history of a city undergoing immense change. Daubs examines the characters who were connected to the case as the century carried on: Ambrose's religious wife, Theresa; his long-time secretary, Jack Doughty; his two unmarried sisters, Florence and Gertrude; Patrick Sullivan, a lawless ex-policeman; and Austin Mitchell, an overwhelmed detective.
About the Author:
Katie Daubs is a feature writer at the Toronto Star where she first came across the story of Ambrose Small when she was writing a story about Toronto's PATH network, which includes the last place Small was seen alive, his Grand Opera House. The Missing Millionaire is her first book. It was shortlisted for a City of Toronto book award and an Arthur Ellis award for true crime.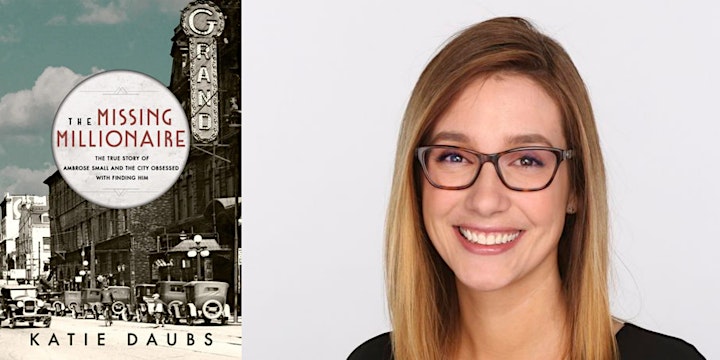 Fall Author Series
This event is part of our Fall Author Series featuring four acclaimed Canadian historical fiction and non-fiction authors! With the help of illustrated presentations and readings, these authors will provide insight into the primary and secondary source research they conducted and their efforts at ensuring historical accuracy in their works.
Sign-up for the entire series to save on ticket price!
Thank you to BMO Bank of Montreal – King & Church Branch for sponsoring this series.